Gorgeous artwork at home with a fascinating story. It has a million red flags of cliché, but contains none. It is wholly unique, a fabulously built universe, and features an absorbing main character.
Fandom Matters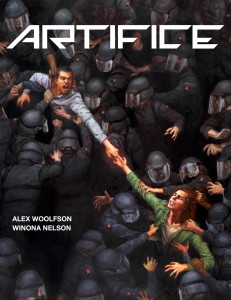 Deacon is a prototype android soldier so advanced he is referred to as an "artificial person." On his first extended mission, he was ordered by his corporate masters to eliminate a team of scientists who knew too much—and he has failed spectacularly. Not only did he let one of his targets live—a 19-year-old human outcast Jeff Linnell—he attacked the team sent to retrieve him. Now the Corporation wants answers and they bring in the brilliant robopsychologist Dr. Clarice Maven to get them, giving her the power to make sure Deacon never fails the Corporation ever again. Deacon seems desperate to conceal the shocking events that took place on Da Vinci 4, but what chance does he have fighting an adversary who can control his every move?
In 2011, debut graphic-novelist Alex Woolfson began releasing pages of Artifice every week for free on his Web site, Yaoi 911 Webcomics. In under a year, the science-fiction webcomic had over 5,000 unique visitors a day and a Kickstarter project to raise money to bring the book to print blew past its $7000 goal in less than 48 hours, ultimately taking in $36,551 at the end of its 30 days. The printed book itself is a stunning 8.5 x 11 inches on premium, glossy stock which shows off Winona Nelson's beautiful full-color art.
Artifice is fun and very polished, which makes its characters accessible to a wide audience of women and men. One of Alex's goals with Artifice was to create the kind of genre story he always wanted to see as a gay kid growing up—stories with real heroes who just happened to like other guys. But ultimately he wanted to create a compelling sci-fi thriller that everyone could enjoy. Women have especially responded to his work and at this time actually command a slight majority of his readership.
Get Artifice directly from Alex!